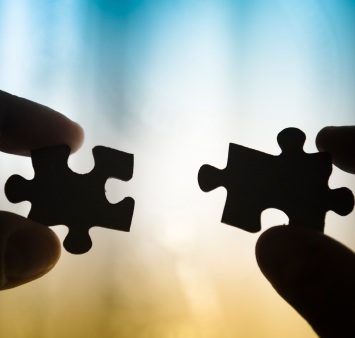 Even the number one business in its field has problems in need of solutions.  The best of breed businesses and industry leaders struggle to find solutions so that they can stay on top.
As a sales professional, implicitly what your customer pays you to deliver solutions.  Many times those solutions are underpinned by your own product or service, and sometimes it is the packaging and perception that gives them value.
If you are the sales professional for a firm, and you are ignorant about hat they need, you cannot produce solutions.  You have to ask.  You must gather from them enough information to "make a difference."  Know how to make your product and services convenient for them.  It is called "ease of doing business."  If you give the customers an easy way to interface with you, you will make a difference.
Diagnose The Issues
The only way to know what would give ease of business is to communicate deeply and frequently.  Communication is at the root of this diagnosis, and action is the result.
Investigate – Seize every opportunity to ask your customer what are their greatest opportunities and threats from a business standpoint.  As companies determine these in their SWOT (strengths, weaknesses, opportunities, and threats) analysis you can focus on what your organization can do.
Knowledge – Know your company's industry, and have a strong knowledge of the customer's industry.  Know how you can use your current product offerings packaged differently to satisfy needs.
Record – Keep a good record of customer's problems, and take time to group problems of like-customers together.  If you do this well you can pick where to spend your time trying to develop superior solutions.
Research – Spend time researching the best way to solve problems, once you have determined what can efficiently be solved.  Use your competitor's ideas, your imagination, and yourexpertise as you research how to solve.
Stand and Deliver
Once you have determined what can be solved efficiently and have researched the solutions that can be used, you have an excellent opportunity to be a "star" if you deliver it correctly.
I am going to give a practical example of how this works:
An office products sales professional recognizes that his list of clients includes a large number of non-profits.  Much of his customer list had similar needs, and similar restrictions from the standpoint of finances.  Non-profits are similar, although not the same.  Knowing this market segment, he began to structure a program that had some unique offerings.
Realizing that many of these non-profits buy many of the same products, he began the process of packaging them.  He came up with unique "offerings" that were mainly packaging that satisfied a need regarding the products purchased, and the way they were consumed.
He then lobbied for unique credit terms (trade terms) that he could offer, knowing that they would need to stretch out payments for a longer period based on them being funded by governmental agencies and donations.  Once he got them, he made that a part of his "Non-Prof-Pak".
He then worked to do that which you can only do if you know the buying habits of your customers.  He worked to do a separate mailing to his customers ("Non-Prof-Pak) with the most frequently purchased products in it.  This was based on his research of what products were being purchased by all of them.  His mailing amounted to a specialized catalog of items that were most used by non-profits including some items that his organization did not carry; yet he knew they needed.  He arranged for those items to come from a "friendly" competitor that allowed those items in the mailing.  It was "win-win".
The result was that his customers did not have to search for their most common items.  Someone who "specialized" in non-profits sent them to them!  We know that it was the way it was packaged, and received.  They did not have to hunt through a long catalog; someone had marketed directly to them.
This sales professional picked up business from this sector, and attained a certain stature in the business community.  This individual has retired since then, and there are not catalogs for the most part with on-line marketing, yet the example is solid.  Packaging is important, marketing is important, and specialization is important.
Product and Promotion
That is a question only you can answer.  There is a possibility that you can identify a group of customers who have a similar need and operating pattern.  Examples are storefront merchants, Black churches and religious organizations, truckers, printers, publishers, and a host of other semi-homogeneous groups.  You want groups with more in common, than differences.
Structure them with an eye toward what solutions they need, then deliver it.  Your research is important, so do it correctly.  You can figure out what makes them the same, and market to them with the application of some of the steps above.
Remember the 5Ps of Marketing:
People
Place
Product
Promotion
Price
In this effort, you are concentrating on the product, or perceived product and promotion.  Your packaging of the product promotion makes all of the difference in the world in this case.
You can only do what your organization lets you do; yet there is some latitude here.  Remember some of the discussions in Black Sales Journal 12/20 – Your Customer Needs an Expert- Let it be You.  We are not talking about you being a sophisticated expert here, yet your ability to package and promote will be the ultimate asset.
By doing this you can provide an ease of doing business that others might have missed.  You can orchestrate the designing of product packages that hit the mark.  We all have seen it, known what it is, and still purchased because it had "perceived" value.
I think you can provide more solutions than you think.  You might be surprised.
Your comments are appreciated.