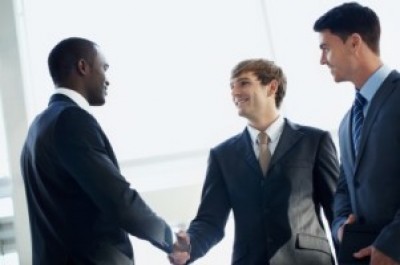 Deep, enduring customer relationships are the prize in some sectors of the sales world.  You will not have these with all customers, as an effort is required which goes far beyond the norm.  The objective is to have it with the most important clients.  Remember, if you don't have a deep relationship with your buyer another sales professional will attempt to gain the buyer's preference.
What is a "Deep Relationship"?
Before we discuss how to get there, we need to discuss the characteristics of this type of relationship:
Preference – You receive preference in the buying relationship and buying process.
A "Business" Friend – You are a trusted confidant with unlimited access to the buyer.
A Business Consultant – You have knowledge of the customers business that few are privy to, including access to key individuals and information.
A Social Acquaintance – Activities (sometimes) overlap into the social setting.  You have knowledge of your customer's social and family situation, and conversely the buyer has a knowledge of your family situation.
This results in a buyer who, given all other issues, prefers to work with you and uses his power, authority, and influence to keep you the vendor to his organization.  This status is an asset, and it is not awarded without some effort and history.
Getting There and Staying There
Getting there is a journey and staying there is a matter of being conscious and consistent.  Attaining this position is done over time and with a lot of work and honesty.  This preference supersedes other preferences, including racial preference. Only someone with similar status and professional expertise can remove the incumbent.  It can happen if your promises are not fulfilled, or if your organization falls short in delivering.
I have "business friends", former customers, from my days as a sales professional who have been friends for over 20 years. I still serve in the roll of business consultant in situations when they reach out for help.  These enduring relationships were based on the following activities:
Give unparallel customer service
Be Honest – always tell the truth
Communicate, Communicate, Communicate – Tell all as early and completely as you can
Share Information – give the customer updates including industry news, product news, legislative news early and often
Be the professional

Make each contact meaningful and time worthy
Be timely in your meetings, contacts, and correspondence.
Be the professional
The depth of relationship comes when someone really likes you and understands you.  Some of these components can be included in the business database (such as Salesforce.com, Goldmine, or any Customer Relationship Management database) and some of these things should not be resident in a business database.  It is a compendium of information that is between you and the buyer, and should be treated that way.
Components of Your Customer Profile
Know your customer!  Use the Customer Profile to build familiarity, increase intimacy, and gain preference. 
Your Customer Profile should include references to the following items:
Customer's background/history - The customer's previous employers, and industries.  Know items such as high school, college (if applicable), and geographic background.  Know the customer's preferred pro teams and hobbies.
Customer facts (away from the office) - This may start with the pictures on his/her desk.  Know the customer's marital status, number of children including ages and sex.  Know the children's high schools and colleges.  Sharing your own information is a start.  Sharing knowledge of this information personalizes the relationship. It is a great start!
Customer Requirements – Use the profile as a repository for any must do's, or requirements for this customer.  Example – When to call, assistant's name and particulars, and other valuable information.
Use the information wisely, and consistently.  Within your organization become the expert on the customer and his/her business.
The Relationship Building Process
Build Trust – Always tell the truth! It is easier to remember.  Avoid stretching it, and avoid white lies. This is extremely important to keep your preference.
Communicate, communicate, and communicate! – Give difficult information immediately.  Communicate as frequently as is possible and use different mediums, but in person or phone for difficult news.
Be personal and personable - No one will expect to tell you about them if you won't discuss yourself. Feel free to show your personality.  Discuss the strengths of your story, as a Black sales professional, he has probably not heard one like it.
As a Black sales professional, relationship building is ultra important, yet doable.  As you start with your current customers, hone your skills with those who you have the best relationship with.  This will pay dividends for the rest of your sales career.