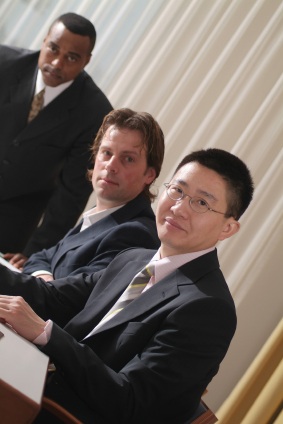 Are you taking your manager or a specialist (such as an engineer or technician) on a call to see your customer?
This type of assisted call happens when you utilize another company professional in your sales process.  This is normally done to facilitate a product or service with complicated nuances and utilizing this assistance correctly could push you toward consummating the sale.  No matter how much assistance you get, the sales call is yours to control, and the deal is yours to make.  This instant credibility and expertise could be very helpful to the Black sales professional because you strive for the credibility that happens when you put together company resources to produce a win.
If you are wise, you will learn how to master the assisted sale because in the end, the credit is all yours, and the compensation is usually not split.  Having someone else do much of the work is a benefit; having someone with you that gives your customer instant solutions coupled with your continued credibility is even more beneficial.  It also gives you a solid opportunity to learn more about your products that will benefit you on future calls.
You're the Quarterback!
There are a few methods that you can employ to make sure that your assisted sales call goes smoothly:
Always have a pre-call meeting – Whether it is with your manager, his manager, or an engineer or specialist who is there to explain technical information, a discussion involving all participants before the sales call is essential.  Make sure you delineate call objectives and what information will be shared.  Make sure your people know who they are meeting with, the hot buttons, and discuss how you collectively should handle them.
Do an agenda and the written introductions – You all know that the most important activity is to advise everyone who is going to be present, what their roles are, and what their credentials are for providing solutions.  This is not as necessary with your manager, yet with technical people, you want to make sure it is known how they will help your customer.
Information must be from the same source and same dates - Make certain that you review all information that will be disseminated and that it is necessary and appropriate.  There should be one set of facts, and no situations where you are quoting numbers from different sources and with varied evaluation dates.  Nothing is more embarrassing than to watch a meeting derail while the participants joust about information facts and origins. You want to see each piece of information that will be handed out.
Monitor the sales call – We all technical sales support people.  Whether they are in financial services, office equipment, machinery, or otherwise, we know that they may be very focused, and maybe not as solid in the role of communicating to the customer.  When you have one that does it well, you will want them as a 'sales partner' every time.  Your role is to watch your customer's expressions and reactions to make sure that those assisting the sale deliver information in a format that is readily understandable.  You can clarify points, restate issues, and direct the conversation correctly to make sure your customer gets the information they need.
Ask for the Business – It is the sales professional's responsibility to close the sale, if the sale is at that stage.  No one should ask for the business but you.  As you are keeping tabs of the open issues, outstanding follow-ups, as well as any questions that can affect the sale.  Make sure that your pre-call meeting includes discussion about your responsibility in this important area.
Open and close the meeting – The sales professional in the capacity of the relationship manager opens and closes the meeting.  Never give up that responsibility as that increases the control that you need.  You will do the requisite introductions, openings, summaries and, if appropriate, closing statements.
Do the written meeting follow-up – As the quarterback, your summary with follow-up items once distributed gives the "now what do we do" and next steps that will shape the timeliness and quality of the response.  Do it within a day after the meeting.
Always Show Value
Part of the value that you will show is that you can bring the people that can make the difference to your accounts.  When your customers are consistently satisfied, you have value.  Be an integral part of that solution by assuring that the call goes well, and the results are achieved.  Know your company's people and how to use them in a way to consummate the sale or provide solutions. 
There is evidence of teamwork when a sales professional puts everything together well.  The customer sees a coordinated attempt to provide his/her needs, or solve their organizations problems, and you are the beneficiary.
Monitoring the Sales Call Revisited
I am going to focus on this aspect from above, as a result of its relative importance.  When you are on that call, you are doing no one any good if you don't make sure that your customer gets what they need.  If the talk is technically too lofty for your customer, you must insert yourself into the conversation.
Saying to your own people, "Can you break that down for us?" is a start.  You can say, "Once more, can you help us clarify how we can get this solved, I don't understand?" Don't hesitate to force the issue.  Remember, you are the advocate of the customer, and if they don't understand the commentary, they you are a part of the "circus".
If you are adept at explaining, do so using terminology that your customer will understand, then ask your technical person if they agree.
Always remember the best sales professionals are not the most technically oriented, but they are the ones who understand best how their products, are perceived by the customer.
Create solutions for your clients, and you will prosper.
We would enjoy your comments.