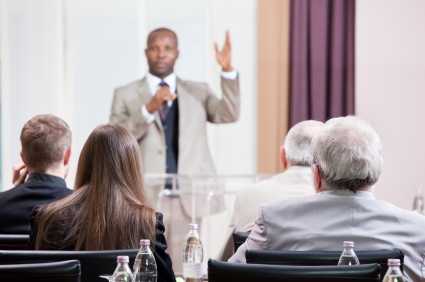 The quest for income starts now, and you need not delay.  Realistically 2012 has started already!  Planning for 2012 is the smartest use of your time, especially during some of the down time that happens during the holiday season.
The time is now, and you need to approach this aggressively.  You need a plan, and you need it to be well structured.  Black sales professionals have a couple of real important needs when it comes to prospect generation:
Credibility
Compatibility
Capability
Let me briefly explain what I am suggesting from the prospect's angle:
Credibility – Are you good enough to do business with me?  Are you knowledgeable enough? Are you willing to represent my interest to your organization and others who you work with?
Compatibility – Are we going to be able to work together?  Will you work with my organizations interest in mind?  Are you the professional that I need?
Capability – What do you and your company do well, and can you do it do for my organization?  Can you provide value?
You must solve these needs to get past the incumbent sales professional and win the business.
3 Ways To Kick it Into Gear
The actions that you take now and in early 2012 to increase your prospecting base should be designed to answer the questions above.   Below are some ways you can answer the questions, and increase your effectiveness:
Gear-up your customer referrals
Deliver captivating prospect and customer seminars
Amp-up your networking
You may remember that these have been discussed at one time, yet it is time to do it now, and do it with some confidence.  Each of these specifically addresses an area that is naturally suspect by buyers for the Black sales professional.
Gear-up Customer Referrals
Many sales professionals go their whole professional life without asking a good customer for a referral.   I know that may sound ridiculous, but it is true.  This is not a cry out for help; it is an effort to broaden your professional network.  The difference here is that with a referral comes some instant credibility.
If a good customer gives you a referral, there is an implication that the referrer is giving approval of your credibility and that answers the questions above under credibility.
It should be part of your normal sales process.  I personally work with a life insurance professional who is methodical in asking a simple statement and question, "I think we have covered all of the issues that you specified prior to our meeting.  I do have one question that I would like to ask.  Do you have any friends or associates that could benefit by the services that I can provide?"  To date, I have provided him with numerous referrals, as Ron is a professional.  You do not mind giving a referral to someone who is knowledgeable and treats customers well.
Ask your best customers for referrals and follow-up immediately.  Always thank your customer for the referrals verbally, as well as in writing.  Implicitly, that individual knows that they are 'vouching' for you and they deserve the thank you note.  Keep score of how many referrals each customer gives you.  In addition to the 'lifetime' value of a customer in terms of revenue, the credibility that they afford you is very valuable as well.
Deliver Captivating Prospect Seminars
As you may remember from Black Sales Journal 3/24/2011 Finding Prospects Through a Seminar, a seminar is a way to talk to several prospects at one time.   It can establish you as a resource and potentially as an expert.  This shows the prospect/customer that you have capability.  The topic has to have some broad interest, and as the lead speaker, you need to be bringing some expertise (yours or an expert speaker) to bear to make it meaningful and informative.  Some examples are:
A tax expert holding a seminar on the new IRS Rules for depreciation of plant assets and their impact on midsized manufacturing prospects
An investment professional meeting with prospective customers to talk about the effect that owning gold can have on their retirement portfolio.
A manufacturers rep gathers prospective customers for a new product that will cut hours of the processing time for the manufacture of machine tools.
In order to be the main speaker you to be an expert, or have strong expertise.  We cover this in-depth in Black Sales Journal More On Being an Expert 6/27/11 because being an expert is the most successful way to thwart racial preference.  If you can save them money, save them time, or just flat out save their company, they will consider working with you even if you are 'purple'.
You put a group of people with like interest in a room with you or an exceptional speaker, and highlight a topic that saves money, saves time, or increases revenue, and you have the formula for an energetic audience.  This energetic audience can have the tendency to depend on you and your capabilities.
Our professionalism and efforts such as this begin to change racial perceptions, even though those perceptions are generally unjustified.
Amp-up Your Networking
Networking is both a skill and an activity, and if you master the skill, and excel at the activity, you will find prospects in abundance.  It is akin to "speed dating" because you have moments to show your business compatibility.  This quick sampling needs to show that "I can work with you!"
When I say amp-up you networking I am suggesting that you commit yourself to a strong networking schedule right now, and develop the endurance and discipline to follow it. To see a good review on good networking practices see BSJ 2/21/2011 Networking for the Black Sales Professional.
This is not an effort to 'harvest' business cards; this is a quest to find prospects, and eventually customers.  Your effort needs to be to commit to a networking schedule, and some strong networking principles:
Pick your groups well.  Find those, which have the opportunity for success and have plenty of individuals involved.
Know your "elevator pitch" (BSJ-8/11/2011 Know Your Elevator Pitch) and be able to tell what makes you and your company different in seconds.
Know the end game, which is determining the fit for you and your organization with the customer, and getting an appointment.
Learn something about your potential customers.  Test the fit, and set the stage for a relationship in the future.  You have something to give in this mutually beneficial relationship.
Above all, record and follow-up quickly and effectively on the contacts and any referrals you might receive.
Be involved in no less than two networking opportunities every month.  Never get out of the habit, and keep track of where you get you prospects and customers so that you know which networking groups give you the most benefit.
Do All Three!
Do all of these for maximum benefit.  If you are not the expert for the customer, work to be one (BSJ XXX Your Customer Needs an Expert).  If you cannot be the expert, round one up and sponsor him to talk to your group.  That is pure networking.
Your objective is to find the mix of activities that is optimal for you.  Be an effective professional.
Always be effective!